The five-story, 135,000 square-foot facility is situated on the quad just east of Green Hall, directly between West Hall and Eickhoff Hall.  In addition to housing traditional library collections and services in an atmosphere that is elegant yet friendly and inviting throughout, the building provides 26 group study rooms, a café, a late-night study area, and a
105-seat multi-purpose auditorium
. A
self-guided audio tour
of the library is available.
Service Points
Includes Circulation, Reserves, Interlibrary Loan
Level 1
P) 609.771.2311
Level 4
P) 609.771.3235
Level 1
P) 609.771.2417
Intranet for Library/Faculty Staff (login Required)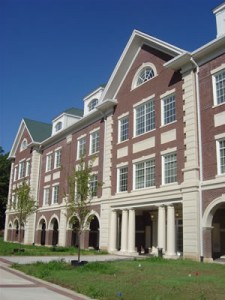 Giving to Gitenstein Library
The R. Barbara Gitenstein Library welcomes your support.  Your gift helps the Library to enhance intellectual resources for the library users.